This project didn't involve inlayed mother of pearl, but was interesting enough to warrant inclusion in this blog. I was asked by two good friends to make a miniature urn out of a piece of wood that had served as a pallet bringing goods from West Africa. When I first saw it, I had no idea what type of wood it was. All I knew was that it was heavy and definitely a hardwood. It was also somewhat cracked and a bit on the dirty side.
It turns out that the wood is Odum, also known as Oroko wood, from West Africa. This is a hardwood that is used for boatbuilding, furniture, and cabinet work. After working with it, I can tell you that it's very, very hard on scroll saw blades. Nice wood though.
The next step was to get the sizing of the urn and the decoration to be put on it. Our friends didn't want inlay done. They wanted the wood, which after all, did come from where E's parents had spent the majority of their lives, to be the main highlight and beauty of the urn. But how to make it apparent that this was about Africa. Not everyone knows that Odum wood is indicative of West Africa. So, I suggested that a scroll-sawn pair of animals from Africa adorn the box, and I started searching the internet for inspiration. I came across this photo and immediately sent it to them for consideration. I love the way the elephant and giraffe seem to be old friends, out for an afternoon stroll.
Our friends liked the choice of animals but wanted them posed differently. The elephant had to have his trunk up, and the giraffe had to be sized to be just about as tall as the elephant. Here's a picture of the elephant that E. sent me. She's quite adept at using Photoshop.
Our friend's parents liked a bit of Schnapps before retiring. As well, her mother was known for singing "Show Me The Way To Go Home" so there had to be a bottle of Schnapps at the ends of the urn depicting the head and the feet of the residents. We chose this bottle as a pattern.
Finally we had to arrive at a size for the box – I drew this pattern from my head, based on the rough sizes they gave me, and they confirmed the final dimensions.
So now all I had to do was to make the box. lots of runs through the thickness planer, table saw, band saw and scroll saw later, this is the urn that emerged.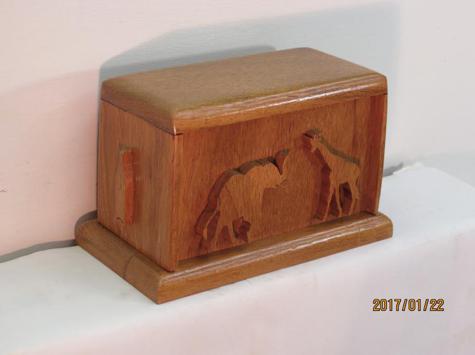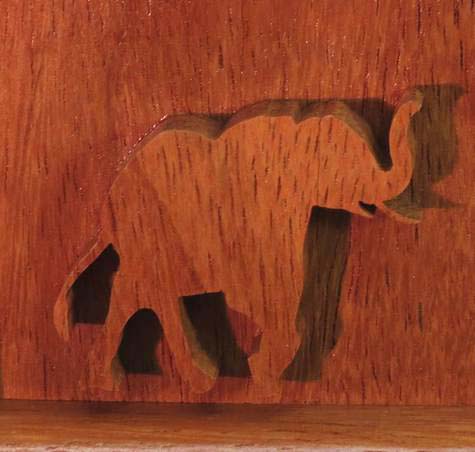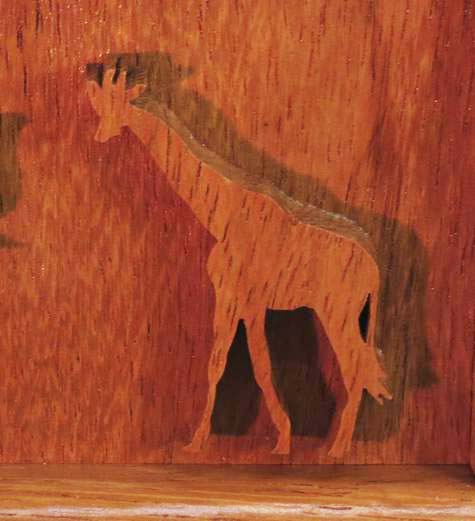 The urn was stained with a water based oak stain and then given many sprayed coats of semi-gloss clear finish. I was really happy with the colour. So were our friends – it now is in a place of honour in their home; a loving tribute to two lovely people.