About Inlay Innovations
Inlay Innovations is dedicated to sharing and promoting the art of inlay – especially that pertaining to inlaying of mother of pearl and abalone into musical instruments, and other venues of fine woodworking. It's also a way to show some interesting woodworking ideas and gifts that I've made for friends and relatives.
Inlay Innovations operates out of North Gower, Ontario, where I live with my wife and three collies, and enjoy inlaying as a hobby.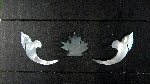 I've always been attracted to the look of an inlayed musical fretboard, although you don't see a lot of them in the normal course of the day. Even if you are interested in music, starting from an early age, it's not often that fine inlay work is on display. Possibly professional musicians see more guitars that have inlay more complex than simple dots, but they are seldom used on stage by working musicians because they're just too expensive to be running the gauntlet of stage life. So when you do see one, shimmering in the light and sparkling with the irridescense of mother of pearl or abalone, it's special, and it's unique. I think it's that irridescense that attracts me. It changes colour and sparkles depending on the angle of view, making you want to catch the light in different ways to see more….
Inlay Innovations Mission Statement
To promote the art of inlay
To promote inlay artists
To make contacts in the lutherie field
To show a variety of possible inlay creations
To show a variety of woodworking gifts
Bruce Penniston